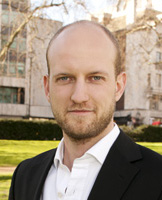 Marc van den Berg
Vice President
Marc joined Charcot Capital at launch in 2008. He is based in the London office.
Marc started investment banking in 2006, and has advised on disposals, acquisitions, mergers, joint ventures, LBOs, and private investments.
Marc also has a strong interest in working with growth companies and emerging market ventures. He took a sabbatical to assist in an entrepreneurial venture in 2010-2011.
Notable transactions include advising General Electric on its disposal of assets in the transportation sector, private investment into Nao do Brasil, a fast growing lifestyle brand, and the acquisition, LBO, and subsequent listing of Dockwise, an oil services company.
Marc previously worked at Lehman Brothers. He is a graduate of Edinburgh University.